The Special Secretary of Social Security and Labor published, on June 18, in conjunction with the Ministry of Health, Joint Ordinance No. 20/2020, which seeks to establish minimum measures to be observed by employers to prevent, control, and mitigate risks of covid-19 transmission in the workplace.
The ordinance brings in important definitions that can help companies in their preparation to resume activities and in contingency plans, in addition to guidance and information on conduct to be adopted.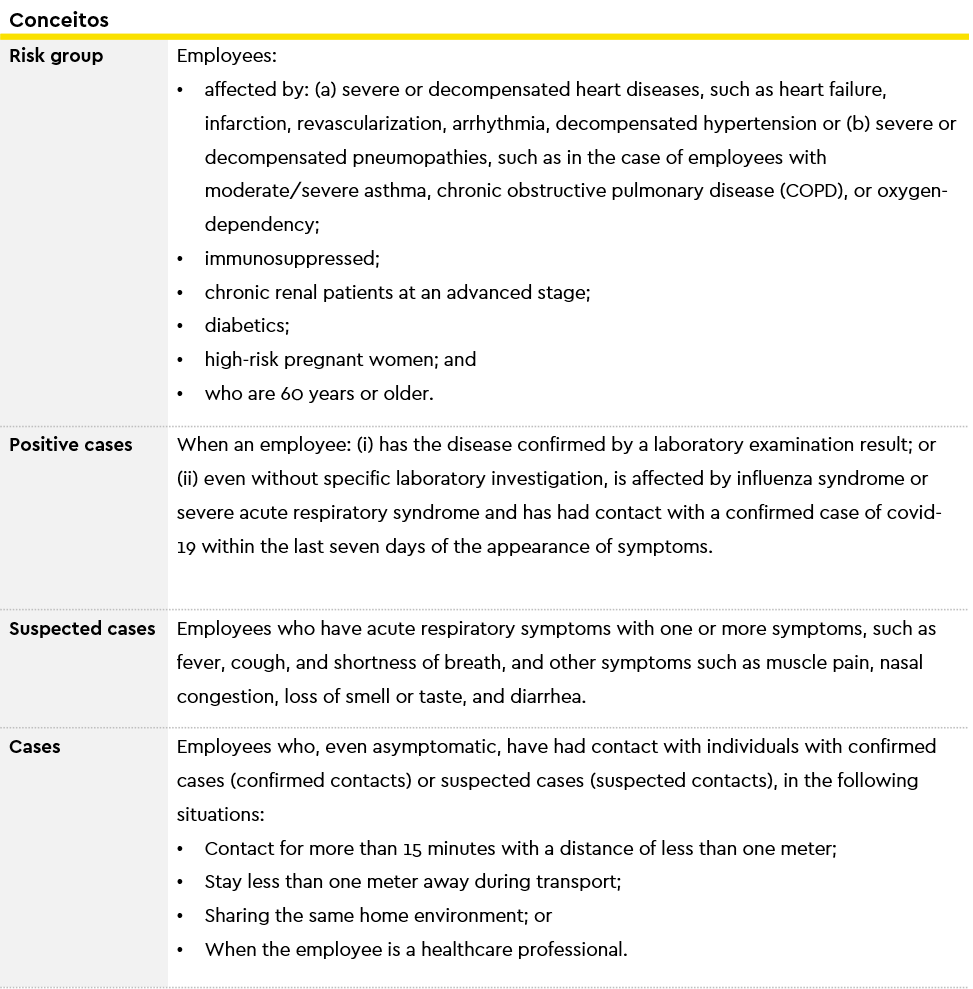 Ordinance No. 20/2020 establishes measures to prevent transmission of covid-19 and to return to business activities that must be observed by employers, together with the other mandates contained in state and municipal health decrees and regulations, as well as the measures for occupational hygiene and safety provided for in collective bargaining agreements. The most restrictive measure should always be observed.
An example of this is the minimum distance of one meter between workers established by item 4.2 of Annex I of the ordinance. In São Paulo, according to the health protocols applied in the state, the minimum distance is one and one half meters.
We highlight below the main measures provided for by the ordinance:
Guidance measures
— Obligation to disseminate guidelines or information protocols to workers, indicating the measures necessary to prevent, control, and mitigate the risks of transmission of covid-19. These guidelines can be transmitted during training sessions or through safety dialogues, or physical or electronic documents. The guidelines should include:
Prevention measures in work environments, in common areas such as cafeterias, bathrooms, changing rooms, rest areas, and in the transportation of workers, when provided by the employer;
Actions for early identification and removal of workers with signs and symptoms compatible with covid-19;
Procedures for workers to report, including remotely, signs or symptoms compatible with covid-19 or possible contact with a confirmed case of covid-19;
Hand sanitation instructions and respiratory etiquette; and
Forms of infection, signs, symptoms, and care needed to reduce transmission in the work environment and community.
Conduct to be adopted in confirmed, suspected, and contact cases
— Immediately remove from in-person work activities workers with confirmed cases, suspected, cases and confirmed cases of contact with covid-19, for a period of 14 days. Suspected cases may return to work in a shorter period provided that (i) it is proven by laboratory examination that there has been no contamination by covid-19 and (ii) they are asymptomatic for more than 72 hours;
— Guidance to workers on leave regarding the need to remain at their place of residence, with pay maintained during the period of leave;
— Establishment of procedures for identifying suspected cases, including:
Communication channels for workers to report the appearance of compatible signs or symptoms, as well as contact with confirmed or suspected covid-19 cases; and
Screening at the entrance to the establishment in all shifts. Touchless body temperature measurement or the like can be used.
— Gathering of information on contacts, activities, workplace, and common areas frequented by the worker with suspected or confirmed covid-19;
— Guidance to contacted persons of suspected covid-19 cases regarding the contact and the need to report immediately to the company the appearance of any sign or symptom related to the disease;
— Up-to-date record keeping with the following information:
Workers with clinical conditions at risk for developing complications related to more severe covid-19 conditions (the disease should not be specified, preserving confidentiality);
Suspected and confirmed cases;
Workers on leave who had contact; and
Measures taken to adapt work environments to prevent covid-19.
— Referral of suspected cases to the organization's medical outpatient facility, where available, in order to perform an appropriate evaluation and monitoring. The care of symptomatic workers should always take place separately from other workers, providing masks to all those present at the outpatient facility.
Common areas of the company
For the common areas of the work environment, Ordinance No. 20/2020 established a series of obligations and recommendations to be followed by employers, ranging from the cafeterias to the transport offered to workers.
Cafeterias:
— It is forbidden to share glasses, plates, and cutlery without sanitization.
— Self-service should be avoided or, when it cannot be avoided, control measures should be implemented, such as:
hand sanitizing before and after serving oneself;
cleaning or frequent change of shared kitchen utensils, such as ladles, handles, and spoons;
installation of food protector over self-service structures; and
use of masks and guidelines to avoid conversations during service.
— Provide frequent cleaning and disinfection of table surfaces, benches, and chairs, as well as adopting a minimum spacing of one meter between people in line and at the tables in the dining areas, advising on the fulfillment of respiratory etiquette recommendations and the need to avoid conversations. When the front or side distance is not observed, a physical barrier must be used on tables at least one and one half meters above the ground.
— Distribution of workers into different time slots at meal places;
— Removal of containers for spices (oil, vinegar, sauces), salt and pepper, as well as napkin holders for shared use, among others; and
— Delivery of set of sanitized utensils, individually packaged.
Locker rooms
— Avoid crowding of workers at the entrance, exit, and during the use of locker rooms;
— Adopt a procedure for monitoring the flow of entry into locker rooms and guide workers to maintain a distance of one meter from each other;
— Guide workers on the order of removal of clothing and equipment, so that the last protective equipment to be removed is the mask;
— Availability of sink with water and liquid soap, as well as disposable towels or sanitizer dispensers suitable for hands, such as 70% alcohol, at the entrance and exit of the locker rooms.
Transportation offered by the employer
— Implementation of procedures for reporting, identifying, and removal of workers with symptoms before boarding, thus preventing the entry of symptomatic persons in the vehicle;
— Obligation to wear protective masks when boarding workers;
— Guidance to workers to avoid crowding when embarking and disembarking transport, with the implementation of measures to ensure a minimum distance of one meter between each person;
— Maintenance of safe distance between workers, following spacing inside the transport vehicle;
— Maintenance of natural ventilation inside vehicles and, where the use of the air conditioning system is necessary, recirculation of air should be avoided;
— Drivers should frequently sanitize their hands and workstation, including the steering wheel and surfaces that are most frequently touched; and
— Record keeping of the workers who use the transportation, listed by vehicle and trip.
Other measures to be adopted
— Cleaning and disinfecting workplaces frequently by cleaning the surfaces of tables, benches, and chairs in between shifts or whenever a worker is assigned to occupy another's workplaces, keyboards, handrails, door handles, payment terminals, elevator buttons, tables, chairs must also be cleaned and disinfected;
— Priority should be given to natural ventilation in workplaces or the adoption of measures to increase as much as possible the number of exchanges of air in enclosures, bringing clean air from outside and avoiding the recirculation of conditioned air;
— Creation and review of procedures for the use, sanitation, packaging, and disposal of PPE (Personal Protective Equipment) and other protective equipment used, with the employees being advised on the use, sanitation, disposal, and replacement of masks, sanitation of hands before and after their use, and even limitations of their protection against covid-19;
— Participation by the SESMT and CIPA in the prevention actions implemented by the organization;
— Provision of surgical or fabric masks for all workers, with use required in shared environments or in those where there is contact with other workers or the public (the wearing of masks and their replacement every three hours or when they have become dirty or wet is mandatory);
— Changing drinking fountains installed in the work environments so that the inclined-jet type is adapted and water consumption is possible only with the use of a disposable cup;
— Guidance to employees to engage in frequent hand sanitizing, with the provision of resources for this purpose near work stations, including water, liquid soap, disposable paper towels, and a trash can (with no manual contact to open) or adequate hand sanitizer, such as 70% alcohol, and guidance on not sharing towels or products for personal use;
— For cases where minimum physical distance cannot be observed, surgical masks, face shield, and goggles must be provided, in addition to waterproof partitions installed in the fixed work stations;
— Adoption of measures to limit the occupation of elevators, stairways, and restricted environments, including sanitary facilities and changing rooms, as well as demarcation and reorganization of places and spaces for queues and waiting with at least one meter between people;
— Prioritization of schedules for attending to the public and distribution of the workforce throughout the day to avoid concentration of people in the workplace;
— Indispensable in-person meetings may take place, provided that the minimum social distance for each location is maintained;
— Workers aged 60 and over or who present clinical conditions of risk for developing covid-19 complications should receive special attention, with priority in staying in the home via telework or remote work;
— No requirement for laboratory testing as a requirement for resuming in-person work (when adopted, the test must comply with the guidelines of the Ministry of Health);
— Professionals responsible for screening or pre-screening workers, laundry workers (dirty area) and those who perform cleaning activities in restrooms and living areas must receive PPE according to the risks to which they are exposed, in accordance with the guidelines and regulations of the Ministries of Economy and Health;
— SESMT medical and health care professionals, such as nurses, assistants, and doctors, should receive PPE or other protective equipment according to the risks, in accordance with the guidelines and regulations of the Ministries of Economy and Health;
— The individual signature of workers on spreadsheets, forms, and controls, such as meeting attendance lists and safety instructions, should be waived;
— When the activities of a certain sector or of the establishment itself are shutdown as a result of covid-19, the following procedures must be adopted before the activities return:
sanitizing and disinfecting the workplace, common areas, vehicles used;
enhance communication to workers; and
implement screening of workers, ensuring removal of confirmed cases, suspect cases, and contacts with confirmed covid-19 cases.