When analyzing the development of new legislation over the world, it is possible to verify that there is a global trend to create different types of flexible working engagements to allow new forms of work on demand. These new working arrangements try to give more flexibility to employers, but also to employees, who sometimes do not want to have a full-time job.

Several countries have already adopted some new types of arrangements. Examples are the zero-hour contracts in the UK, the lavoro intermittente established by Italian legislation and the minijobs in Germany. Similar working arrangements are also found in Ireland, Netherlands, Switzerland, and others.

In Brazil, the recent Labor and Employment Reform (Law No. 13,467/2017), which was approved by the Brazilian National Congress on July 2017 and came into effect on November 2017, implemented several changes and updates to Brazilian labor and employment laws.

Most of these changes and updates aimed at modernizing Brazilian legislation, increasing the level of legal certainty in labor relations and creating new jobs and working arrangements.

In this context, and following the global trend of new flexible working arrangements, one of the most important updates implemented by the Brazilian Labor and Employment Reform was the introduction of a new type of contract that allows the engagement of individuals under an employment relationship: the intermittent contract of employment.

According to the recently enacted law, intermittent contracts of employment are those through which individuals are engaged under an employment relationship to render services under a non-continuous basis, in alternate periods of work and inactivity that may be determined by hours, days or months, regardless of the activities of the employer or the employee. Only aircrew personnel cannot be engaged under intermittent contracts of employment.

These legal definition guarantees to individuals working under intermittent contracts of employment the status of employees and employment and social security protection.

From an employment perspective, the employee's hourly salary cannot be lower than the minimum hourly wage or than the hourly salary of other employees of the company who work in the same position pursuant to an intermittent or regular employment contract. At the end of each service period, employees must immediately receive the respective salary and pro-rata labor and employment rights, such as (ii) proportional vacation payments; (iii) proportional 13th salary; (iv) the paid weekly rest; and (v) mandatory legal allowances, if any.

In addition to that, employers are required to collect employment charges and social security contributions on the amounts paid to intermittent employees on a monthly basis.

From a social security standpoint, the intermittent nature of the services does not automatically exclude intermittent employees from social security coverage. In order to maintain this coverage and avoid gaps in contributory periods, they may voluntarily collect social security contributions whenever they receive less than a minimum monthly wage for working few hours in a given month.

In fact, one of the main purposes of the Government by introducing this new form of flexible working engagement was the creation of a type of employment contract that would allow employers to engage individuals under an employment relationship to provide intermittent services, while also ensuring employment and social security protection to workers.

According to the Government's expectations and estimates, this new form of flexible engagement will allow the creation of new formal jobs by bringing under the coverage of employment laws workers who currently are under precarious types of engagement simply because the nature of their work did not fit into a regular full-time employment contract.

From the employer's perspective, this new form of flexible engagement without any guarantee of minimum work or pay was especially desired by the services and retail sectors, which have peaks of demand linked to specific events or periods of the year.

As introduced by the Brazilian Labor and Employment Reform, however, this new flexible working arrangement not only is good to employers but also addresses employees' needs.

In this sense, from the employees' perspective, although the law does not establish a minimum number of work hours per month nor requires the payment of a minimum monthly allowance or salary, intermittent contracts of employment gives them flexibility because they do not require availability from employees. Therefore, employees may freely execute several simultaneous intermittent contracts of employment and adjust their working schedule as they see fit, by refusing work calls when they have already accepted to work for a certain employer or if they simply do not feel like working on a certain day.

This gives especial flexibility to individuals who want to enter the workforce and start having their own income but also have other activities – for example, college students who need to conciliate their working schedule with studies and classes. Thus, although employers may call employees when they need their services, employees may also freely deny work calls.

According to official data from the Labor Ministry (Caged), between November 2017 (when the intermittent contract of employment was introduced) and April 2018, 17,046 job positions were created under this type of contract, as follows: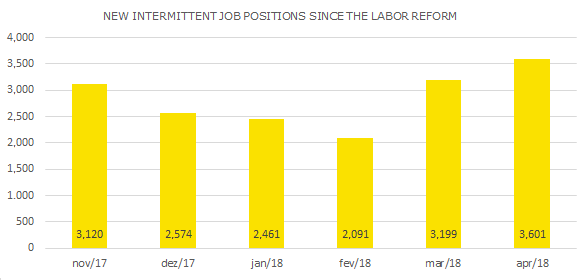 Since the beginning of this year, 3.6% of the new jobs in Brazil were created under an intermittent employment contract:



Of course, although we may see some restrictions and resistance from certain labor unions and authorities, the numbers above indicate that intermittent employment contracts have been consistently adopted by companies and employees in Brazil.
The way the Brazilian Reform structured the contract for intermittent employment not only guarantees employment and social security protection to employees but also allows both employers and employees to create flexible working schedules, as they need.
The intermittent employment contract, as implemented by the Brazilian Labor and Employment Reform, not only addressed an old agenda of companies doing business in Brazil but also was a big step for Brazil to update its labor and employment laws in line with the most modern trends seen across other countries.