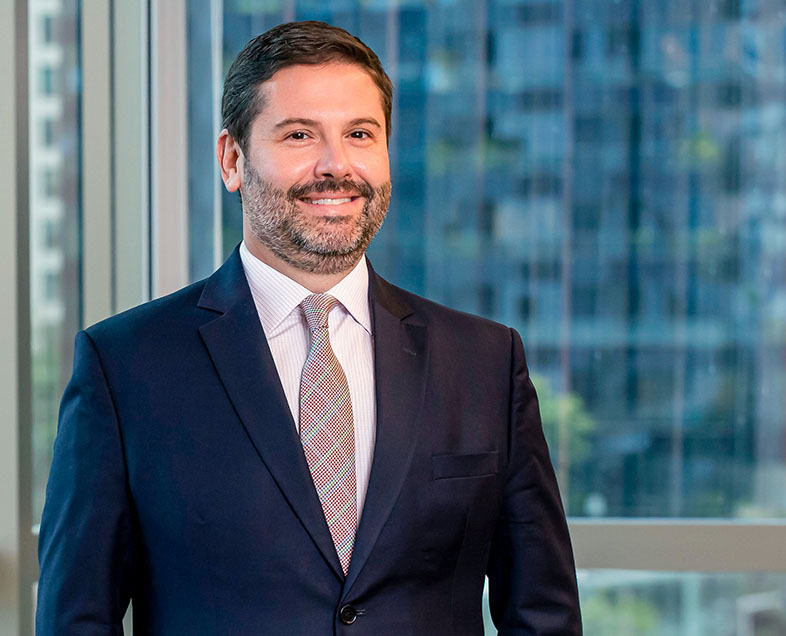 Rafael Vanzella
Partner
rvanzella@machadomeyer.com.br
+ 55 11 3150-7429
Vanzella is specialist in regulated contracts, structured acquisitions and financings, complex guarantees, and public administration business conducted in the sectors of transports and logistics, energy, urban mobility and cities, basic sanitation, and solid waste. He provides legal assistance to investors, main contractors, suppliers of capital goods, financial institutions, and governmental agencies on a range of steps of an infrastructure project, such as private-public partnerships modeling and concessions, negotiation of joint venture agreements, participation in tenders, establishment of special purpose companies and of their shareholders' agreements, structuring construction contracts, supply and off-takes, paying in of capital structure, and disvestiture transactions. He also engages activities in expression of interest procedures, pre-litigation procedures of administrative contracts, regulatory analysis and diagnosis, and drawing up studies on sectors and public policies.
Associations
Brazilian Bar Association Deutscher Akademischer Austauschdienst Alumni.
Recent acknowledgments
Classified among the most admired attorneys by Análise Advocacia, 2015 edition, in the sector of construction.
Recognized by The Legal 500, issue 2017, in the Next generation lawyer category, recommended in Public Law.
Education
Universidade de São Paulo, Law School (Doctorate degree in Civil Law, 2009).
Max-Planck-Institut für ausländisches und internationales Privatrecht, Germany (Guest researcher, 2008-2009).
Fakultät der Rechtswissenschaft an der Universität Hamburg, Germany (Guest researcher, 2007-2008).
Universidade de São Paulo, Law School (Bachelor of Laws, 2003).
Other qualifications
Professor in the Executive Training Program of Fundação Getulio Vargas, Escola de Direito de São Paulo.
Office experience abroad
Kim&Chang, South Coreia, 2012.
Recent publications
Law No. 13,848/19, enacted in June, established the new framework for regulatory agencies in...
[+]
Federal Law No. 13,726/18, or the De-bureaucratization Law, enacted in October, not only authorizes,...
[+]
In January, the state government of São Paulo enacted Law No. 16,933/2019, which regulates...
[+]
The enactment of a new version of the Sanitation Executive Order took place in the transition...
[+]
In September, BNDES approved four credit transactions for three different companies in the...
[+]
Presidential Decree (MP) No. 845/18, published on July 20, established the National Railway...
[+]
Awaited since November of 2017, the Sanitation Presidential Decree was finally promulgated...
[+]