Corporate Social
RESPONSABILITY
We believe that promoting education and respect for diversity is an essential aspect of everything we do. Our corporate social responsibility initiatives seek to generate opportunities to build a better society.
Diversity and Inclusion
The Diversity and Inclusion Committee emerged in 2011, based on the work developed under the Women in Machado Meyer Program, which, with its evolution, attracted our attention to other forms of diversity besides gender.
Today we have 3 D&I initiatives: Gender Equity, Ethnic-Racial, and LGBTQ+.
Gender Equity
CONNECTing women
We seek to create tools for the development of our female lawyers and provide opportunities for rising to decision-making and leadership positions, bringing about greater equity in the proportion between men and women.
These actions are reinforced by external commitments such as WEPS and the Target Gender Equality movement, linked to UN Women and the Global Compact.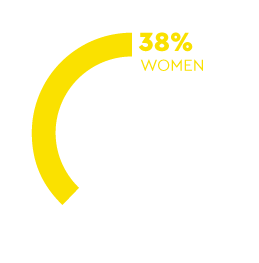 Launched in 2017, the #1gualdade program represents the firm's commitment to supporting diversity and promoting an open, inclusive, and welcoming environment for LGBTQ+ audiences.
Its main goals are to respect diversity by creating an environment for our people to express themselves freely, and to recognize the value of a diverse team.
ID.AFRO is the racial affinity group of our D&I Committee. It seeks to promote ethno-racial equity through debate and initiatives to create an inclusive and diverse firm.
Pro Bono Initiatives
We are committed to pro bono work, with the objective of offering free legal services to organizations and the people they represent, and this is only possible with the engagement of our partners, lawyers, and trainees.
Pro Bono in numbers
Cases

Recognitions

TRUSTLAW AWARDS
We were awarded in 2015, in the category innovation, for the work conducted in partnership with other firms and companies for Teto ("Techo"), an organization present in Latin America and the Caribbean, which seeks to overcome the situation of poverty in which millions of people live, which occurs through the joint action of residents and young volunteers.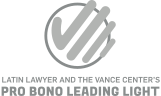 PRO BONO LEADING LIGHT
In 2014, 2015, 2019, and 2020, we were recognized by Latin Lawyer and Cyrus R Vance Center as one of the leading firm contributing to the development of pro bono culture in Latin America.
A look bac kat our actions in citizenship throughout our first 40 years of existence has also become a book. Click here to download.
Sustainability
Employees who identify with issues such as Sustainability and Environment have the opportunity to make a difference at Machado Meyer through the Green Team, an affinity group that aims to promote discussions and propose actions and practical solutions that can change thoughts and attitudes inside and outside the firm.
Volunteering
The Machado Meyer Volunteer Program is an opportunity to make a difference, contributing to meet the needs of various communities in which we operate, always in a manner consistent with the Social Responsibility guidelines of the firm.
We believe that together we can promote the transformation and build a more just and caring society.
If you are a non-profit organization and have a legal demand, let us know! You can share your case at the blank space bellow and, as soon as possible, our CSR Team will contact you.