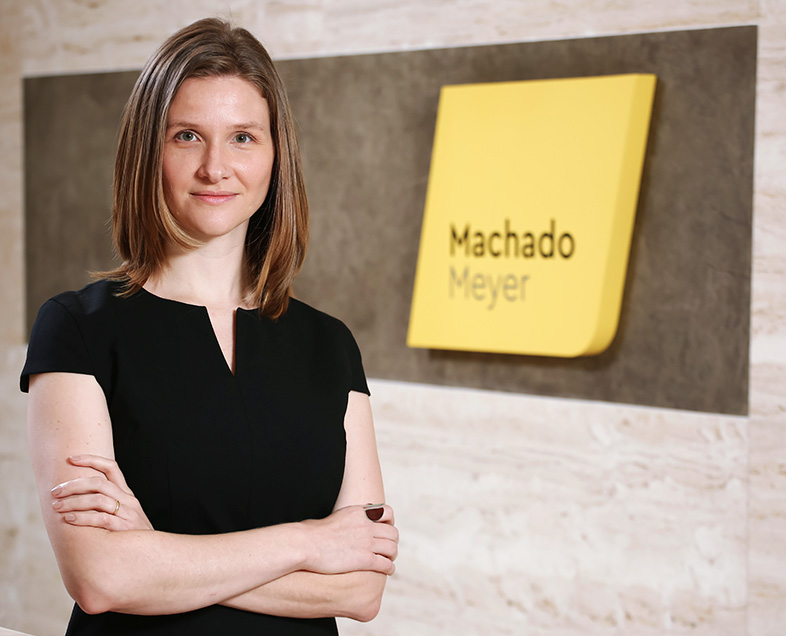 Gisela Ferreira Mation
Partner
gfn@machadomeyer.com.br
+ 55 21 3572-3024
Gisela is a specialist in the prevention and resolution of corporate disputes before arbitral tribunals and state courts. She has previous experience in cross border disputes and has acted before the main Brazilian and international arbitral institutions. She represents clients in complex conflicts related to contract, corporate and civil liability law. Her practice further encompasses regulatory, compliance, and corporate integrity matters.
Associations
Brazilian Bar Association
New York Bar Association
Comitê Brasileiro de Arbitragem (CBAR)
Young International Arbitration Group (YIAG)
ICDR Young & International
American Society of International Law
International Bar Association.
Education
Bachelor in Law, Fundação Getúlio Vargas, São Paulo (2009)
Exchange program at Sciences Po - Institut d'Etudes Politiques de Paris (2008).
LL.M. Harvard Law School (2012)
Master's degree in State Law, Universidade de São Paulo (2013)
USA and International Anti-Corruption Law Summer Program, American University Washington College of Law, concentration "U.S. Legal Anti-Corruption Framework" and "Corruption Risk& Mitigation When Doing Business Abroad" (2014)
Other qualifications
- Direito Privado e Combate à Corrupção: Desconsideração da Personalidade Jurídica e Falência no caso TRT. In: Maíra Machado et al. (Org.), Estudos sobre o Caso TRT, São Paulo: Direito GV, 2014.
- Arbitrabilidade de disputas envolvendo empresa falida ou em recuperação judicial: notas sobre a jurisprudência brasileira. In: Gilberto Gomes Bruschi et al. (Org.), Direito Processual Empresarial, Elsevier: 2012.
- Uma Conversa sobre Direito Societário Comparado com o professor Klaus Hopt, 28 Cadernos Direito GV 7-27, 2009 (coauthor)
- As Ações Civis para Cessação e Reparação de Danos Causados por Condutas Anticoncorrenciais no Brasil. In: Prêmio SEAE 2008, Treasury Department 2009.
Office experience abroad
Visiting Professor at National Law University Delhi, New Delhi, India (2014), teaching the subject "International Arbitration Proceedings".
Visiting Scholar at Yale Law School (2013-2014).
International Associate at Freshfields Bruckhaus Deringer (2012-2013).
Internship at the Arbitration Court of the International Chamber of Commerce - ICC, Paris, France (2009)
Recent publications
The Brazilian Arbitration Law (Federal Law No. 9,307/1996) enshrines, in its article 8, sole...
[+]
International transactions, especially those carried out en masse through electronic commerce,...
[+]
In April of this year, Brazil ratified the Convention on the Taking of Evidence Abroad in Civil...
[+]